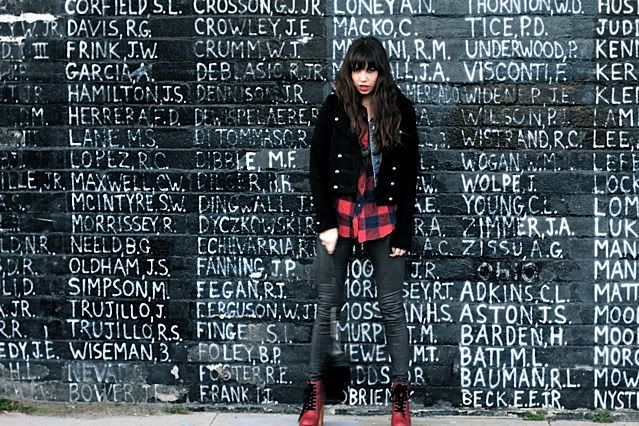 On Jen...
Plaid Top - UO / Denim Vest - Vintage / Jacket - Tigerlily / Leather Pants - Helmut Lang
Shoes - JC / Purse - City of Dolls / Necklace - One Gray Day
When we started this band
All we needed, needed was a laugh
Years gone by...
I'd say we've kicked some ass
When I'm enraged
Or hittin' the stage
Adrenaline rushing
Through my veins
And I'd say we're still kickin' ass
Ooo, ahh, kickstart my heart
Hope it never stops
And to think, we did all of this...
To rock
- Motley Crue
Nothing says rock and roll like a great pair of leather pants...
And these ones are my soulmate!
I love how they are a charcoal gray which makes them feel like a faded black...
Gives them a more lived in feel.
I feel the red in the top, shoes, and lips make the outfit pop and gives it more attitude.
For an un expected element I added the denim vest, I was liking how the denim worked with the leather pant so I went with it!
Hope everyone had a fantastic weekend!
xo J